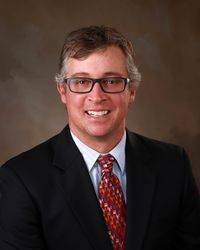 Gavin W. McClintic
Attorney & Partner
"My goal is simple: Help people when they need help."

Fun Facts
Born and raised in Mt. Pleasant

Married with two sons

Hobbies include hunting, fishing, tying flies, and riding his Fat Tire bike

Loves fishing as much as he loves practicing law

Once had a client tell him "Watching you in court today was better than watching a TV show!"

Memberships
Isabella County Bar Association

State Bar of Michigan

Licensed Real Estate Agent - Michigan

Admissions
Michigan State BAR

Saginaw Chippewa Indian Tribal Court

Education
Bachelor of Arts Degree, Hillsdale College 1993

Juris Doctor, Michigan State University, College of Law 2006
Gavin's Bio
My law practice is influenced by a diverse background of work experience that I have accumulated throughout my life. Upon graduation from Hillsdale College in 1993 I went to work in Atlanta Georgia and Charleston South Carolina. I worked for a large forest products company selling lumber to large building centers and the manufactured housing industry.
The experiences I have had in the business world give me a useful first hand perspective in assisting business owners as an attorney. I returned to Michigan in 1997 and went to work for a human resources management company that assisted small and medium size businesses with payroll, employee benefits, work place safety and other human resource related topics. After that, I was a licensed commercial insurance agent in mid Michigan for an independent insurance agency. I worked with schools and businesses regarding their insurance needs. In 1997 I got my real estate license and have been a licensed real estate agent ever since.
Though I was something of a "non-traditional student," in 2003 I chose to go to law school at the age of 33 to follow in the footsteps of three previous generations of men in my family. I have been practicing law in Mount Pleasant, MI since early 2007. I feel honored to be able to work in a profession that by its very nature exists to help people. I often help people who are facing situations they believe to be insurmountable at the time, which makes coming up with solutions to those situations all the more satisfying.
As a fourth generation attorney, I feel a deep sense of responsibility toward the people I work for. I serve as a confidant for individuals, families and businesses, some of whom relied on my father, grandfather, and great grandfather.
When I first chose to practice law, one of my first law professors Dr. Clark Johnson told me, "You just bought yourself a front row seat to the greatest show on Earth." The legal profession brings me into contact with people at their best, people at their worst and everything in between. I believe this has given me a greater understanding and empathy towards others that I use every day as an attorney.
My goal is simple, help people when they need help. It can be difficult at times, and the unfortunate truth is, I'm only human like anyone else. I don't believe in false hope and flattery, but I do believe in dedication, perseverance, and my own skill as an attorney. I don't give up when I know there's a chance to succeed.
One thing I know for sure is when I run into former clients, whether they be a successful business owner who came to me to get their business off the ground or someone I helped solve a seemingly unsolvable problem, I feel a great deal of satisfaction knowing these people relied on me during a time of need. I take pride in helping others, no matter how big or small my assistance seems.